Doug Wells
Webmaster



Posts: 2217


| | | | |
| --- | --- | --- | --- |
| | Posted on: Nov. 18 2008,8:48 am | | |
---
The Orange Elks Lodge # 1475 recognized and honored lodge members for their service to our country. Don Westerfield, Â the lodge National Veterans Service Chairman, introduced lodge members who served in the Army, Air Force, Navy, Marines and National Guard. They protected and served from World War 2, Korea, Viet Nam, 9/11, Desert Storm and Desert Shield.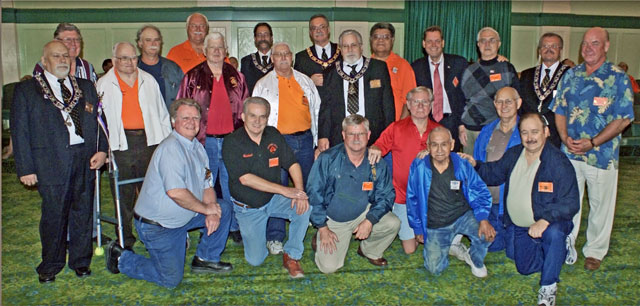 Front Row kneeling (left to right), John Smith, Michael Williams, Scott Mc Kee, Walt Mc Bride, Louis Ochoa, Keith Fawver, Jim Bonafore
Standing 2nd Row Tom Tregle, Lloyd Harwood, Mel Wancowicz, Don Davis, Rod Story
Back row
Jim Duncan, Mike Rowan Bob Christian, Tom Bearce, Mark Walker PER, Barney Rodriquez, Don Westerfield, Bernie Campbell, Brian Fitzpatrick, Dean Smith

--------------
Have a great !